The Disabled Veterans' Scholarships Fund
There are estimated to be around 2.6 million veterans living in the UK. Having served in the Armed Forces and dedicated their lives to the safety of the nation, they are men and women who have trained explicitly for the demands of military life in our nation's unfailing defence. 
Unlike colleagues who make plans for retirement, unexpected discharge from service life due to disability is likely to mean that these individuals are less prepared for a new life outside the military. And, according to the Career Transition Partnership annual statistics, veterans are significantly less likely to have a degree than non-veteran counterparts, which could leave them at a disadvantage in the jobs market.
Our Solution – The UK's First Disabled Veterans' Scholarships Fund
The Disabled Veterans' Scholarships Fund (DVSF) has been tailored to fully support disabled veterans, injured in or due to service, as they transition to civilian life. It provides a free OU education and a wraparound  support service. The large majority of veterans make a successful move out of the military, however, for those who do struggle this Fund offers a lifeline.
Finding a fulfilling, sustainable job is an experience that 44% of disabled veterans find difficult according to the Deloitte report Veterans Work: Moving On. They identify obstacles such as: matching their existing skill-set to civilian roles, having insufficient or unrecognisable qualifications, and writing CVs or job applications. The careers support offered by DVSF aims to address these difficulties so that veterans are able to put their considerable, valuable skills to use in the workplace.
The OU is well-placed to deliver this programme. Currently over 36,000 of our students have a registered disability. Our distance learning is sent straight into students' homes which is ideal for anyone with health issues. We also enhance our flexible learning with specialist equipment and assistance such as alternative format study materials.
As a Pioneer Graduate of the Open University, and an ex-serviceman, I recognise both the effort required to complete an OU degree, but also the immense value gained from doing so. I am proud to be an ambassador for a programme which is changing the lives of our disabled veterans.

Sir Christopher Coville
CB FRAeS FCIPD BA (Open), Disabled Veterans' Scholarships Fund Ambassador
The Fund: Progress
We are now supporting 210 DVSF students, 55 enrolled in 2018, 50 in 2019, 55 in 2020 and 50 in 2021. These individuals come to us from a variety of backgrounds and have a complex range of health challenges. 
I really appreciate this opportunity given to me by the OU. To have this ability to study is an intrinsic part of my recovery. It gives me a focus and a purpose each day and will lead me towards employment in my chosen field

Scholarship recipient
2018/19 academic year
Eligibility Criteria
• Eligible applicants resident in England, Wales, Northern Ireland and Scotland may apply for a bursary of £3,000 for each 60 credits of OU study, up to £20,000 for up to 360 credits (for a full undergraduate degree).
• The applicant would have to provide proof of disability, sustained in or due to service life.
• The applicant must intend to study at a minimum of 25% intensity (at least 30 credits per academic year).
Full terms and conditions are available at www.open.ac.uk/courses/choose/veterans
The Disabled Veterans' Scholarships Fund is kindly supported by
ABF The Soldiers' Charity
AlixPartners UK LLP
Amey plc
Antac Support Services
BAE Systems plc
Balfour Beatty plc
The Big Give
Boeing
The Chancellor using LIBOR funds
Constance Travis Charitable Trust
Michael Cornish Charitable Trust
Sir Christopher Coville KCB
The Englefield Charitable Trust
The Simon Gibson Charitable Trust
The Inman Charity
Leidos UK
The 'Lest We Forget' Association
PF Charitable Trust
Queen Mary's Roehampton Trust
The Samuel Storey Family Charitable Trust
The Sandra Charitable Trust
Thales Charitable Trust
The Trelix Charitable Trust
The Utley Foundation
The Veterans' Foundation
The Wakeham Trust
The William Allen Young Charitable Trust
The Worshipful Company of World Traders Charitable Trust
and over 6,000 alumni, friends and OU supporters including:
Robin Adcock, Lara Cournoyer, Gordon Dickinson, John Duncan, Eileen French, David Godson, Colin Hume, Paul Nicholas, Doreen and Anthony Van West, Rachael Webb

The Fund: How to Support
Through joining our family of DVSF supporters, you can help make it possible for us to continue to offer this lifechanging opportunity to veterans. With your support, we aim to launch applications for the next 50 students in Spring 2022 to start study in Autumn 2022. Please consider supporting this to happen, through:
Promoting: To potential students
Fundraising: Donating towards each full fee-waiver degree which is £20,000 per student.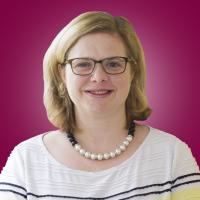 Clare Davenport-Johnson
Head of Corporate Partnerships
01908 654739
clare.davenport-johnson@open.ac.uk